Zacci (Zac-key) | 19 | California
About Me
: The sex is female, but the gender is neither male or female. My sexuality is open to possibilities & I like it that way. I have random obsessions. I have depression & anxiety issues. I am in a loving relationship with the best guy in the whole wide world. I am a walking contradiction. I also know lots of random facts about nothingness (mostly sex). I am outgoing & friendly, yet feel distant from everyone. Talk to me though, I'm not as terrible as I think I am.
About the Blog
: I post a bunch of things I find appealing.
Links
:
Ask
Weheartit
Dear Lily...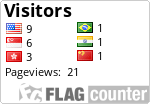 Counter started on March 16th, 2011.